I SURVIIIIIIIIIIIIVVVVVEEEEDDDDDD!!!!!!!!!!!!!!!!!!!!!!!! I OFFICIALLY SURVIVED MY FIRST YEAR OF COLLEGE AND
PASSED
!!!!!!!!!!!!! 8D 8D 8D HYDROCARBONS AND PARAMETRIC TRIG FICTIONS TOTALLY DONT HAVE NUTHIN' ON KIKI, HMM-HMM THAZZRITE

BUT I HAVE CONS TO TALK ABOUT! 8D
WOO! so first was Anime Detour in Minnesota, and that just happened to hit RIGHT in the middle of midterms, but i was so worn out and dead and exhausted from school it came at the PERFECT time, AND WAS SUCH A FREAKING FUN WEEKEND, OMG <3 besides me having to wake up at 2am on friday and drive the 5 SUPER boring hours to Minnesota by myself on a road of NOTHING that for some freaking reason has a 65 mph speed limit
i got pulled over too... but i got a warning! bahah!
IT WAS THE MOST PERFECT WEEKEND <3 i got to hang out with


and

who are some of the most wonderful ppl ever <3 AND WE ALL RAN AROUND AS THE MOST BAWLER GEJINKA POKEMON GROUP ANYONE HAS EVER SEEN! the most fun part was running around the hotel's landscaping looking for appropriate places for photos that matched our pokemon types xD LIKE THIS: WOOD STICKS = TREE.
one of these is not a real pokemon... CAN YOU FIND THE IMPOSTOR???
baaaaah Kate and Tara did such an amazing job on the costume, i LOVE it, and stare at it fondly in my closet. i get urges to put it on and run around my yard sometimes too.
AA was SUPER fun and new for me at Detour too because i was sharing a table with

SHE IS THE SWEETEST, MOST BUBBLY AND WONDERFUL PERSON EVER <333! she was so fun to table with and talk to, and she put up with my ded-ness since i hadn't had any decent sleep for a good three weeks at that point and i got even less at the con xD; baaaah AA at detour was awesome <3! OOOOH AND THEN I MET MY DEAR FRIEND

FOR THE FIRST TIME! THAT WAS SO WONDERFUL! i had been looking forward to finally meeting her IRL for ages, so that was definitely a huge highlight~ and then i met a bunch of really awesome ppl, baaah it was just such a ridiculously fun con, omg.
....and then i went back to school and proceeded to fail two calc III exams and ace an Orgo Chem exam. huzzah.
THEN THREE WEEKS LATER JUST BEFORE FINAL EXAMS TOTALLY OWNED ME, (quarter systems suck) ACEN HAPPENED! 8D 8D 8D WHICH WAS JUST AS AMAZING AND FUN AS DETOUR, BUT FOR COMPLETELY DIFFERENT REASONS <333!!! BAAAAAAAAAHFKDLSAJFDKLA
So i roomed with my super dear friend

and all her absolutely wonderful friends, who were all so awesome to hang out with and get to know <3! FFFFFFF OMFG AND

HAD MADE ME THE MOST
AMAAAAZING
FREYA COSTUME!!!



!!!!!!





not only is FF9 my favourite Final Fantasy ever (ttly deserves so much more love) and not only is Freya the coolest, most awesomest female character in the game and one of my favourites, but the costume Kari made was absolutely awesome as well, and so fun to wear around!! BAAAAH!! <3333!! the hat didnt get finished in time, and the mask-thing i had made dried wrong and fit bad, (i fail at all things cosplay OTL;; ) but everything else was absolutely lovely!! I painted my face white instead, and threw on my Freya wig and it was SO FREAKING AWESOME XD
(from left to right) Me as Freya, our friends as Dagger, Amarant, and ~Xatsura as Kuja from FF9, i ttly spy the spikes of an axel in the bg too xD bahaha
and then there was a big Final Fantasy photoshoot the second day, and there were so many ppl i felt like i was gonna get smooshed by a giant chocobo or Quina sandwich if i jumped in. so i just observed and took pictures, my camera could only fit in about 1/3 of the total group, LOL XD;
oh yeah Seph, you work it
Artist Alley was SO much fun too, i tabled again with

who really is too awesome, and it was so nice to see her again!

was also at our table, and BAAAAAAH SHE IS SO AWESOME, AND SWEET, AND HILARIOUS, OMG XD i bought so much KH stuff from her xDD it was so awesome! ive been a watcher of hers for a really long time, and so it was SUCH a treat to get to meet her and talk to her, she is so fun and awesome, FFF AND HER ART IS AMAZING TOO, NNGH <3! i bought a sexy Axel bookmark

<3
OUR TABLE OF AWESOME, OMG: <3333
baaaaw we're so freaking cute <3
I saw tons of amazing cosplayers and met so many awesome ppl while in the AA, it was too much fun just talking to people and seeing all the awesome costumes! but the best cosplayer fo sho: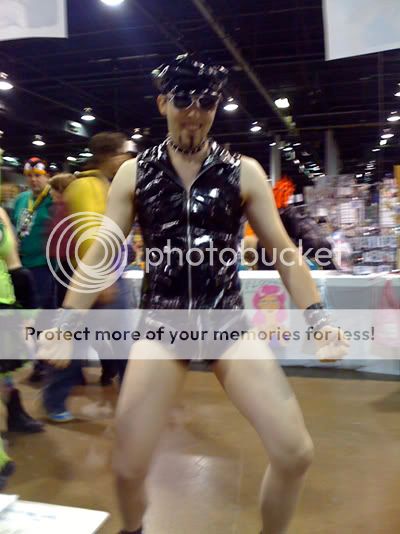 "HARDU GAAAAAAAAAAAAAAAAAYYYYYYYYYYYYYYYYYYYYYYYYY!!!!!!!"
BAHAHA only not really, tho he did pelvic thrust our table very impressively. oh and i did get a HUUUGGE kick out of this girl:
SORRY GAIS, HAD TO SENSOR OUT THE PEN0RZ
i guess Roxas has a kink for photographing his sexy times with Axel BAHAHA

but omg she like, made my morning, she made me laugh so hard xDD HER PAJAMAS WERE ALL HAND MADE AND HAND PAINTED, EACH LITTLE AXEL FACE WAS DONE BY HAND, LMFAOOOO and then the book was full of comical Roxas-obsessed-over-axel things, like, "OMG THIS IS A PIECE OF AXEL'S HAIR" "OMG A PIECE OF CHEWED GUM" and then losts of smexy pictures, HEEHEE LMFAO OKAY MAYBE YOU HAD TO BE THERE, OR IM JUST EASILY AMUSED, EITHER WAY, I LOVED IT XDDDD
omg i love cons....
i think my favourite cosplayer award officially goes to this man tho:
he made such a good Willy Wonka, and he was super nice x3
when Meagan and i called him over to tell him he looked awesome, he popped open his pimp-can and gave us Nerds out of it! 8D 8D 8D!! he made it himself AND IT WAS PRETTY MUCH THE AWESOMEST THING EVER XD <33!!
oh man, well, that all goes without saying... I also had the HUGE privilege to meet

and... crap, i pretty much pee'd my pants, i've liked... oogled and stalked her akuroku work for AGES, plus she is probably the most gorgeous person i've ever seen, LMFAO i felt like i had met a celebrity, and was in dazed sparkle mode for the rest of the day, omg it was all too awesome

*sparkles some more*
OH and then saturday night our Hotel caught on fire and we all had to evacuate and we all freaked out cuz we were all: "ZOMG WHAT DO WE BRIIINNNGGGGG?!?!"

you really realize whats most valuble to you when you're forced to evacuate quickly and are only able to grab a few things xD (my sketchbook, that's all i cared about, LOL XD;; ) but it was fun, we found games to play while we stood around in the grass and stared at the big fire-trucks and wondered which nerd kid exploded and caught the building on fire.
this is us after we were let back inside and everyone was standing in front of their rooms cheering, and it was awesome.
i survivied the ACen 2010 fire, DURRHERP
AAAAAAND i think that concludes my adventures, for now, it is now SUMMER! OMG I CAN'T BELIEVE IT!! EVEN THO I STILL HAVE A TON OF STUFF I NEED TO GET DONE AND CAN'T RELAX YET, IM STILL SUPER STOKED !!!! OMGGGGGGG BAAAAAAAAAAAAAHLASKDFJSALKFJASLKDFJAL EXPECT A JOURNAL IN THE NEXT WEEK OR SO FOR DOUJIN PRE-ORDERS, OMFG YES, IT IS FINALLY TIME! X333333 WAAAAAH AFTER OVER A YEAR OF LABOR IT'S JUST ABOUT READY!! BAAAAAH IM SO PUMPED!! BAHADSFJKLFASLFJDKASLFKDJAASKD
THIS IS MADNESS! THIS IS SUMMERRRRRRRRRRRRRRR!!!!!!!!

<3